About the Bards
Xenalicious and Reneegade are both seniors at Wellesley who are scared of graduation and don't know how they'll meet girls come May. They like to drink beer and ogle women. If you share these interests, feel free to e-mail a picture.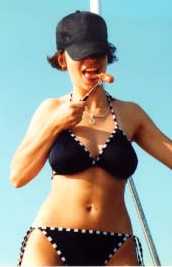 Xenalicious is, as you can deduct from the photograph, a girl. She, as you might have gleaned from her writing, likes other girls. That, coupled with an inexplicable attraction towards baggy pants, clunky shoes and short hairdos, would make us conclude that Xenalicious is, indeed, a lesbian. But fear not, some of her best friends are men. That said, we can move on to more mundane things.
A senior at Wellesley College, she has had three and a half years of exposure to all things female, from women's dances to having her period coincide with that of all the other women on her floor, and now the time is slowly nearing to bid adieu to all that. As another Wellesley College graduate, she is so not looking forward to the expected corporate career and (gasp) the Real World. Not to mention the fact that she will actually have to exercise her gaydar in order to figure out who's gay and who is not. Ah, the joy of women's colleges…
A gentle soul that she is, Xenalicious enjoys poetry, hiking, racy Xena fan fiction, good beer and dancing. Her music tastes include, but are not limited to, the following: Ani DiFranco, ApolloFourForty, Meshell Ndegeocello, Melissa Ferrick, Janis Joplin, Billie Holliday, and so on. Though she has nothing definite planned for after graduation, she does not plan on moving anywhere where she couldn't experience all four seasons. Being the youngest child, she shamelessly admits to being spoiled rotten and does not hide the fact that she wouldn't be able to boil an egg to save her life. Having said all that, she does hope you have found her writing endeavors worthy of your time and would like to hear from you. Blessed be.
-----
Uh, okay, a short update: I graduated, I found a job, found a roommate, found an apartment, bought a house with my sister, ditched the roommate, ditched the apartment, renovating the new house, still single. I do own a tool belt now, though am still to purchase any power tools. Give the girl some time! I miss my buddy Reneegade tremendously, I have no one to share my evil ways with anymore (if you live in the Boston area and like to drink beer and shoot pool and drool over Lucy and Renee, guess what? You're not alone). Here's to us being reunited soon, dear.
Disclaimer: Xenalicious does not, I repeat, does not have a penchant for wieners. The one in the photograph was used purely for artistic purposes. Thank you for your understanding.